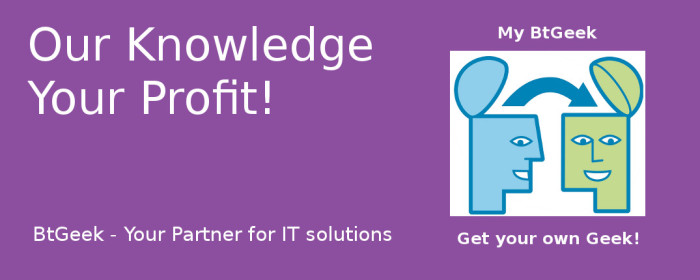 Biztact Solutions Private Limited is a company established in 2001 with an aim to offer the tactical and secure business solutions to the enterprises wishing to establish their businesses online.
Biztact has been pioneered by the team of entrepreneurs and developers with over fifteen years of experience in the field of Information Technology and Businesses. Based on the vast experience, the solutions offered by Biztact are designed to have the ease of implementation and flexibility such that the enterprise can setup its business online in a day.
Biztact offers dedicated service called BtGeek service.
BtGeek

is our

IT expert

with years of knowledge in IT industry.
Whenever you have IT related query, your BtGeek is just a phone call away.
BtGeek is a pay-per-use service. So you pay only for the questions asked!
BtGeek can also help you decide which Products to buy.
Please checkout the boxes below for more information.